I'm pretty fickle when it comes to music subscription services; I like to try them all. I've used Pandora, Rdio, Google Music, and Spotify. I had no particular reason to switch to Apple Music when it came out because Spotify works so perfectly. Then came the reports about Spotify's recent privacy policy changes; I decided to try Apple Music after all.
What I Like
Radio stations

I often don't know exactly what I want to hear, I just want something pleasant in the background while I work or drive. I use radio stations heavily on streaming music services for this reason. I think the quality of stations on Apple Music is very good. I've mainly played with built-in stations like Chill, Soundsystem, and Beats 1 so far, not custom stations based on artists and songs.

'For You' section

I like that hearting songs seems to result in more music suggestions in the For You section of iTunes. It's very helpful for this to include full albums as well as playlists like "Intro to Justin Vernon", "Inspired by Björk", and "The Knife: Influences." This section has been great when I want to quickly find something to play when I'm getting in the car in the morning, or when it's my turn to control the upstairs speakers at work.

Siri support

It has been very helpful in the car to use Siri to play music. If I want to hear a particular song, or just any music by a given artist, I can speak into my iPhone much faster than having a passenger type and search through the app, or waiting till a stop light to do it myself. She's pretty good at recognizing what I want. I was able to tell her "play churches" and she interpreted that correctly as "play CHVRCHES." As long as I'm using an iPhone, Apple Music is going to rank higher than any other music app for this reason alone.

Music backup plus music streaming

I liked Google Music because it let me back up my local library as well as stream music I don't own. Spotify, Rdio, and Pandora are just streaming only, and it turns out it's nice to have all your music in one place. I have albums like Vault Archives by Mark Morgan that you won't find in any streaming catalogue, and I like not having to switch apps when I want to play it versus play the latest Halsey album that's available to stream.

It generally works

Both iTunes on my Mac and the app on my iPhone are basically okay. It streams okay in the car and on my Mac at the office, despite the occasional halt in the music for no good reason. I've had really good suggestions in For You, and combined with New and Radio, I haven't had trouble finding things I want to listen to.
What I Dislike
Too many steps to save stuff for later

In Spotify, I hit the little plus button next to a song that's playing and it adds it to my library. I can view that as a playlist later and see the most recently added songs first. In Apple Music, the most prominent similar button is a heart, but all that seems to do is inform the songs suggested in For You. There's no global list of all my hearted songs, and that sucks.

Songs grayed out on albums

I frequently see songs that are grayed out in an album even though I know Apple Music has that song available to play.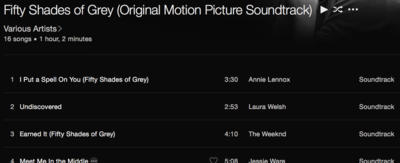 If I look on Spotify, they have the new Weeknd album and Earned It from that album is available to play: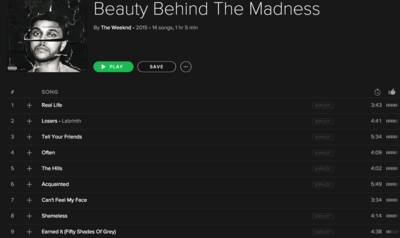 Can Apple not get the same deals as Spotify? Apple needs to step up their game, because it's really annoying trying to listen to a full album and realizing some of the songs just won't play. You have to make a playlist of most of the album plus the individual songs from elsewhere.
Delays when adding to playlists

Sometimes when I add a song to a playlist on my Mac, if I go back and check the playlist, the song isn't there. I have to choose Add to > My Playlist a few times before it happens. This is super frustrating because I can't trust the service. I don't want to have to tell it repeatedly to be sure it did a thing, nor do I want to keep checking up on it to ensure it did.

Mixups in albums

I bought 1989 by Taylor Swift off Amazon and added it to my iTunes Library. While listening to it on my iPhone, it was playing fine, then got to Shake It Off. For some reason, it was playing the karaoke version without lyrics. No way do I own the karaoke version of anything. I hit the previous track button, then hit the next track button, and suddenly it knew to play the correct version of Shake It Off. Likewise while listening to the Roseland NYC live album by Portishead, when it got to Mysterons, it switched to playing the studio version off of Dummy.

No 'Shuffle All' on iPhone

If I'm driving out in the boonies with no cell signal and I need to play offline-only music, it would be really helpful for me to have a Shuffle All button. I end up with individual songs available offline on my iPhone, and I don't want to choose them one at a time to play. I'm down to the dregs so I'm not going to be picky here, just play me what you have, iTunes!

No Last.fm support

I've been scrobbling since 2006 and I don't want to give up that history of music that I've built. Spotify has built-in Last.fm scrobbling support in its desktop and mobile apps, but Apple Music does not. On the desktop, I found an abandoned app called Bowtie that works well with iTunes, but I worry about it no longer working in the future. On iPhone, I found QuietScrob, but it only works with music in your library, and doesn't work at all with radio stations in Apple Music.

No API

I have a lot of playlists in Rdio and Spotify that I'd love to migrate to Apple Music, but without an API, there's no easy way to do so. I saw a couple third-party, paid apps that claim to do this, but I don't quite trust them because they involve capturing some token from iTunes. I would rather there just be an official Apple Music API that lets me authenticate with OAuth and know exactly what access some third-party app is requesting. I also personally love building music apps myself, and I want to build some that let you do cool things with your Apple Music library.
Verdict
I have the subscription in iTunes set to auto-renew. $10/month is what I'm used to paying for streaming music, and I'd like to see the improvements Apple will inevitably make — 'Shuffle All' is so obvious, they have to add it, right? — plus Spotify still wigs me out with that privacy policy. "Local law may require that you seek the consent of your contacts to provide their personal information to Spotify" is what it says, "We're going to use your contacts, lol, make sure we're not breaking the law" is how it reads to me.