Converting a Word .docx file to a PDF on the iPad
In case anyone else has the need to do this, I'll explain how I converted a .docx file to a PDF on my iPad 2. The fact that I feel the need to write a tutorial on how to do this should be a big hint to the folks at Apple that their file management system, or lack thereof, needs work. :/
So my mom sent me a Word file and wanted it as a PDF. I got the email on my iPad and figured that, hey, I have GoodReader, I should be able to do this no problem. Pff, not so simple, actually.
First, tap the attachment in Mail to open a preview of it. In the upper right corner, hit the little arrow-export button and choose Open in GoodReader.
In GoodReader, connect to Google Docs via the Connect to Servers tab. Upload your Word file to your Google Docs account.
Pop over to Safari and browse to Google Docs. You'll be in the dumbed-down mobile version, but navigate to your uploaded Word file and open it in Google Docs. In the top right, there is a little down-arrow button next to the Edit button. Hit the down-arrow and choose Use Desktop Version. You may be taken to a page saying "The browser you're using may not support all features of the desktop version of Google Docs", but just hit the "Continue to desktop version" link.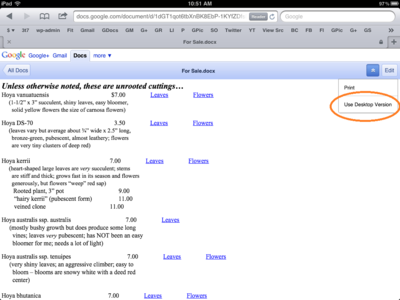 When the full desktop version of Google Docs loads, go to File > Download As > PDF and a new tab will open with your document as a PDF. In the top right corner, there should be an Open in GoodReader button–hit it.
You'll be popped back over to GoodReader with the PDF of your document open. Now you can't attach files from within Mail on an iPad (?!), so you're going to have to start the email from GoodReader, to let it attach the file for you. So if you were wanting to send the file as an attachment in a reply to the original email, too bad, you're going to have to send it as a new message. In the bottom right corner of GoodReader, hit the little arrow-export button and choose E-mail File. Bam, a new message window opens with your PDF file already attached, ready to send.
For iOS 5, you know what would be bad-ass? Some file management support so I don't have to rely on apps like GoodReader and Dropbox to find/organize my files, and also the ability to attach files myself to a message in Mail. Oh, and the ability to convert between common file types, like Word and PDF.